Now that you've identified 5S as a critical ingredient to your company's success, it's time to create a team to supervise and enforce the system. Although everyone in the company should be involved in the 5S strategy, it's essential to appoint a specific group of employees to lead the effort. 
The 5S implementation team should consist of at least 4 to 12 members coming from all levels of the organization. This can include one or two members of the following:
Senior management

Middle management

Supervisor

Safety officer

Facility staff

HR staff

Front-line employees
Having a diverse implementation team will allow the company to address the problems at each department or level of the organization. Plus, representation from all levels of the organization encourages every employee to put forth suggestions and be updated on all decisions.
The 5S implementation team may work as a whole or be divided into subcommittees handling different areas, such as communications, visual cues, training, project support, etc.  Cobra Systems provides a tool that will help this team implement.
How to Create an Effective 5S Compliance Program
Once a team is established, it's time to train them so everyone understands the 5S system, its pillars, and its application. The training should also involve observing the area where the work is actually done. Then, gather the important information needed by doing the on-the-ground work to identify the root problems of the specific work areas.
Next is to put the 5S strategy into action. Choose specific areas in the workplace as "pilot" areas for the 5S implementation. Then follow the five S acronym to start creating an efficient workplace. Here's a guide on how you can begin the pilot roll-out:
Take a photo of the current condition of your chosen pilot work area so you can compare it later after the 5S is implemented.

First, clean the working area by sorting or separating the necessary and unnecessary items. Remove clutter, waste, and other stuff that has NO value and only takes up the space of the area. 

Organize the remaining items in the working area. Arrange them in a systematic and logical way. Improve organization by using tool organizers, relocating machines, and industrial printers to create safety signs, labels, and stickers.

Clean the workspace by removing dirt, clutter, and unimportant items that make it hard to work productively. 

As for the items that have been removed from the area, you can categorize them in four ways. You can either recycle, sell, donate, or throw them away.

Take a photo of the area to compare the differences before and after 5S implementation.
Now that the work area is clean and orderly, the next course of action is to find ways to maintain and keep it that way. Here's where 5S compliance procedures come into the fold.
The implementation team should standardize the best practices applied during the sorting and organizing phase. Establish written procedures, policies, and standards of conduct to maintain cleanliness and orderliness in the workspace. 
Furthermore, a written compliance procedure makes everything official and will foster uniformity within the organization. The team should oversee, monitor, and enforce the 5S standards and compliance program to identify vulnerabilities or issues.
Why do you need a good industrial printer? Cobra System is the home of unique industrial printing solutions!
10 Reasons Why You Need a Vinyl Sign and Label Printer for Your Business
Do You Need an Industrial Printer for Your Workplace?
How to Choose What 5S Industrial Printer to Buy?
How to Sustain 5S Compliance Procedures
Implementing compliance procedures can be challenging, especially for large organizations adopting new systems. So here are some tips on how you can successfully execute the 5S compliance procedures in your company:
1. Conduct Training and Education
Discuss and educate all employees regarding the established policies and operating procedures. Conduct a training program so every company member knows the expectations and can comply with the standardized methods. Give annual refreshers or seminars when changes are made in the compliance procedures.
2. Develop an Open Line of Communication in All Levels
Let it be known that employees can proactively communicate with the 5S team or committee regarding any questions. The company should also create an anonymous way to report issues, compliance violations, and ethical concerns.
3.
Establish Internal Monitoring and Auditing
Measure the effectiveness of your 5S standards and compliance procedures by conducting internal auditing or monitoring. Identify risks, problems, and concerns so the team can address these issues and improve them.
The implementation team should also allow employees to give feedback and suggestions regarding the newly established procedures.
4.
Take Corrective Action
After determining the vulnerabilities of the standardized procedure, it's time to take corrective actions. Gather suggestions from the team and the front-line employees to resolve specific work area issues. Implement new compliance procedures, monitor, then make revisions if needed.
Do You Need an Industrial Printer for Your Workplace? Learn more.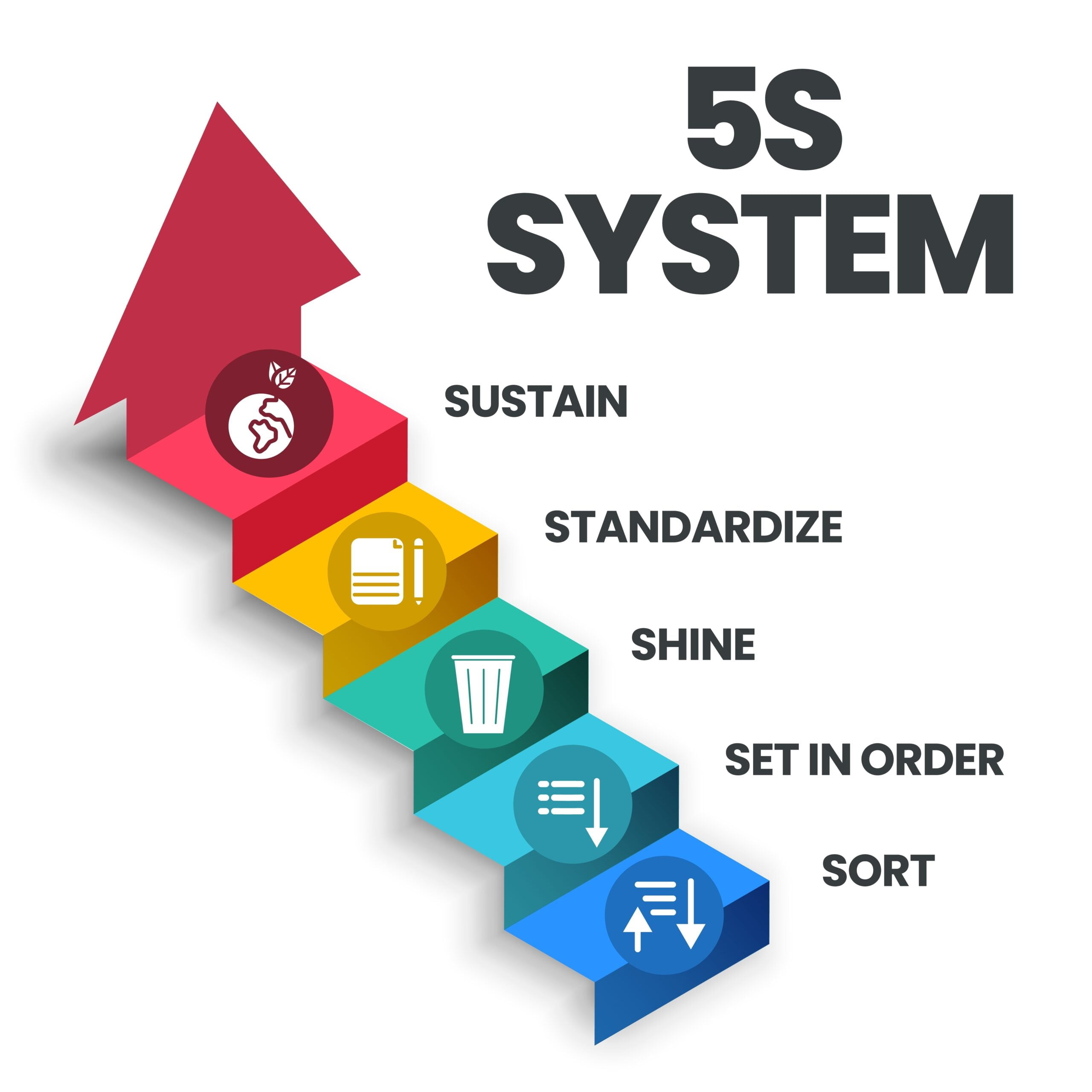 Frequently Asked Questions
How can the 5S methodology benefit your company?
The main purpose of the 5S system is to help every company create a quality work environment by improving safety and organization. Once a company achieves these attributes, it won't be long until they see maximum workplace productivity and efficiency that would result in an increase in ROI.
How can it improve safety inside the workplace?
The 5S methodology strongly advocates for cleanliness and orderliness in the workplace to eliminate hazards and health risks. This, in turn, help enhance the overall safety of both employers, employees, and consumers.
What institutions can benefit from 5S?
Typically, the 5S system is implemented mostly in the manufacturing industry, industrial facilities, and office administration. However, a lot of other industries can actually benefit by implementing the 5S methodology. This includes:
Hospitals and other health-related facilities

Hotel and restaurant industry

Retail stores and grocery

Information and communication technology

Housekeeping and homemaking services
Why does 5S fail in some organizations?
In every venture, there's always a risk of failure; the same goes for the 5S method. The system sometimes leads to failure for various reasons. The most common ones include lack of financial resources, little to no support from senior leadership, wavering commitment of employees, and lack of direction.
Where should I start?
Whether you're a large business or start-up, the best way to start 5S is by understanding and learning the system. Invest in a good training workshop for EVERYONE. It's also important to get support from the management, senior office, and employers in implementing the system.
Implement a 5S system in your workplace
Creating 5S compliance procedures may seem like a huge project but not if you have the right tools to implement it. If you're thinking of adopting the 5S system into your workplace, then we can happily help you implement it by providing a portable printer that will support your 5s program.
At Cobra Systems, we provide high-quality industrial identification printing systems and product solutions. We can supply you with the right printer that can meet the needs of specific industry-related applications. 
Contact us at 805-243-3462 to start creating sustainable 5s signs and labels using our VnM Signmaker.
Want to explore more options? Check out more article about safety solutions in your workplace.
How to Ensure Safety and Compliance in Your Company
How to Improve Warehouse Efficiency
Filed under: 5S Methodology, Blog, News, Workplace Safety
Tagged with: cobra systems labels, Health and Safety Labels, Safety Labels is Important for Your Business, Safety Signs, workplace safety