Every workplace has its own set of systems and management techniques to create an efficient work environment. However, there seems to be one specific methodology that stands out: the 5S Methodology. But what is this 5S system?
According to the Occupational Safety and Health Administration (OSHA), over 100 deaths a week in the workplace were recorded during 2019. In most cases, these accidents in the workplace happen due to unsafe working conditions.
Of course, safety can be challenging to maintain, especially in hazardous industries. But it's not impossible.
You can create a safe workspace for employees while maximizing productivity and profit. One example is adopting a new system or protocol that can transform every workplace into an organized, efficient, and safe environment. One such system is called the 5S methodology.
So, here is everything you need to know about the 5S principle and approach and why every workplace should adopt this system.
What Is 5S?
5S refers to a systematic work methodology that uses visual management to build a quality work environment. It involves 5 steps that workers need to follow systematically to create an efficient workplace with fewer injuries and wasted downtimes.
Furthermore, its purpose is to maintain order and cleanliness within the workplace to yield maximum productivity and value.
What Does 5S Stand For?
Originally, 5S comes from 5 Japanese terms starting with the letter S: Seiri, Seiton, Seiso, Seiketsu, and Shitsuke. Below is the 5S Japanese to English translation and their definitions.
Japanese word

English Translation

English Version

Definition

Seiri

organized

 

Sort

Sorting through materials to remove unnecessary things from each workplace area.

Seiton

orderliness

 

Set in Order

Organize the remaining items in a way that will make tasks easier to do.

Seiso

cleanliness

 Shine

Keep each work area clean and orderly.

Seiketsu

standardize

 

Standardize

Turn

seiri, seiton, and seiso

into a permanent work routine by standardizing them. 

Shitsuke

discipline

 

Sustain

Maintain discipline to sustain the newly placed standard procedures.
How Does The 5S Methodology Work?
The 5S method focuses on removing clutter and waste in each working area. Its goal is to give a designated place for necessary materials in the workplace to achieve organization and orderliness.
As a result, workers can enjoy a safe working space where they can do their jobs efficiently and productively. The 5S approach aims to do this by following a specific five-pronged methodology: the Sort, Set in Order, Shine, Standardize, and Sustain.
This framework can only work if it's implemented in its proper sequence. Generally, it will start by removing the clutter and waste in the workplace and organizing the remaining essential items. Next is to clean and inspect the recently-organized work area regularly. Then comes the standardization of the best practices implemented, performing maintenance, and maintaining discipline until 5S becomes a habit.
This methodology applies in any workplace, whether it's in a healthcare facility or a factory. It is designed to improve an industry's working environment, which enhances the workers, their output, and the company's profit and image. 
5S: Before and After Implementation
Here's a good example of what 5S looks like in action even in a simple desk workspace:
Before 5S, you can see the space as a complete mess of jumbled documents and other office materials. But after implementing 5S, everything is in its proper place with labeled folders to organize and easily track the documents. Plus, there's now a clean open space where work can be done efficiently. 
Now, imagine this kind of system implemented in a larger setting, such as huge storage locations or factories. Wouldn't that be a pleasant sight that encourages productivity and safety?
Origin of the 5S System 
Initially, the 5S system started as a part of the "Toyota Production System or TPS" built by the leaders of Toyota Industries (previously known as Toyoda Automatic Loom Works). 
The company created TPS during the early 20th century to solve its increasing manufacturing waste and inefficiencies. The TPS system involves many methodologies that we now know as jidoka, just-in-time manufacturing, kaizen, kanban, and 5S. 
In fact, the 5S became a foundational part of TPS and Toyota, where they believe a clean and organized working environment can consistently yield the best results.
As TPS began to significantly change Toyota Industries for the better, many businesses and industry experts studied the system and implemented it in different workplaces. 
Finally, a JIT expert and engineering educator named Hiroyuki Hirano devised the five pillars of the visual workplace inspired by the TPS and other methodologies within the system. This then evolved into a concept that we now came to know as the 5S methodology.
The 5S system gained more importance as it became the foundation of another systematic methodology called Lean Manufacturing Techniques. Now, 5S can often be heard together with Lean since the former serves as an organizational tool for the latter.
What Are The Benefits of Lean 5S?
Implementing the Lean 5S in the workplace allows both the company and its workers to reap several benefits, such as:
Less clutter – organizing the work area and removing unnecessary items results in less clutter and better space storage.

Increased work productivity and less idle time – without all that clutter, employees can now do their jobs efficiently and become more productive during their work time. 

Improved quality and consistency – standardization of work processes and procedures means decreased product or service mistakes and variations.

A safer workplace – a well-organized and clean workplace makes way for a safe working space.

Improved employee satisfaction – 5S ensures seamless work processes and procedures, boosting employee morale and satisfaction. 
How Do You Use 5S in the Workplace?
The 5S system is more than just a concept or a five-letter acronym. It is a hands-on tool that establishes workplace organization to benefit both the company and the employees. 
So, here's an in-depth look at the step-by-step process of the 5S system that safety officers, managers, and business owners can implement.
Sort
The first step of the 5S methodology is the Sort/Seiri. This step aims to clean the working area by removing clutter, waste, and other things that add NO value to a space. 
The ultimate goal of the Sort step is to clear the workspace of unnecessary items to provide an area where you can carry out the next 4S steps. Here's how it works:
The first thing you need to do is go through every item in the working station to evaluate its importance.

Use some guide questions to know which items need to stay or be removed. Some examples include: "How frequently do we use this material?" or "When was the last time this tool was used?"
To accurately sort the items, it's important to categorize them in four ways:
Keep –

items in this category are essential to your workplace's daily operations.

Remove –

unnecessary items that need to be thrown away to make more space in the working area (e.g., broken tools, expired chemicals).

Probation –

during sorting, you will likely encounter some unknown items on the way. In this case, it's important to note these materials or "red-tag" them and keep them in a separate space. Other employees may assess the red-tagged items to see if there are items that originally belong to their workstations. Items may only be placed in the probation area for a specific number of days. After that, you need to either sell, recycle, or discard them.

Recycle –

items in this category are those that may still be useful for other employees or departments in the workplace. 
It's important to remember that the best people to do the "sorting" process should be the ones who actually use the working area.
Set in Order
Next is the Set in Order step, wherein workers should organize the remaining items in the work area. Here are some pro tips on how to organize things efficiently:
Arrange the tools, materials, or equipment in a systematic and logical way. This means that you should think about the specific tasks that the items will be used for when arranging them. For example, you should place tools near the place where it's frequently used. Or store materials in a central location if other teams need to share them. 

Make sure to arrange materials in a way that makes sense. This way, employees can work seamlessly without obstructions or blocking one another.

Utilize a 5S diagram or floorplan to strategically arrange large pieces of equipment or storage areas. You can also use shadow boards that feature the outline of specific materials so people will get familiar with their rightful place.

Another consideration you should make is the people who work in the area. For example, are they tall, short, left-handed, or right-handed.

Once everything has its designated place, it's time to label their storage bins and specific locations. 
Shine
Shine or seiso refers to the "cleaning" phase of the 5S methodology. Once the clutter has been removed, and everything's arranged, it's time to remove the dirt and polish the working space. 
The Shine phase's main goal is to clean the workspace to work efficiently while producing quality products or services. Furthermore, Shine also makes cleaning a habit that every worker should do regularly. Some examples include regularly sweeping the area, weekly quality control checks, or monthly tools and equipment maintenance. 
Additionally, a thorough and regular cleaning eventually leads to a safer work environment. Plus, regular maintenance will make it easier to spot problems or defects before they even get out of hand.
Standardize
Standardize or seiketsu simply refers to the standardization of the practices implemented in Sort, Set in Order, and Shine. The Standardize phase is where you will make everything official by putting it into writing, such as creating an SOP or standard operating procedure. 
Having a standard procedure or process for everything helps people maintain cleanliness and orderliness. Moreover, the best practices implemented will become the universally understood system for every employee, which helps maintain the consistency and quality of every output.
Additionally, standardization helps prevent both employees and employers from sliding back to their old habits. Here are some pro tips on how you can easily enforce this in the workplace:
Create daily, weekly, and monthly schedules so workers can get familiar with their daily tasks before, during, and after their work duties.

Create an individual step-by-step procedure for every work process, or you can use a checklist.

Provide visual cues of procedures or steps to remind employees working in that specific station. Some visual tools to use include labels, posters, floor marking tape, and tool organizers.
But remember, standardization of procedures should not be set in stone. Companies should be open to changing their SOPs if the current ones don't serve their purpose anymore. 
Sustain
Lastly, there's Sustain or shitsuke, which means discipline. This phase focuses on cementing all implemented practices to make them a habit. Moreover, Sustain encourages workers and employers to keep all the steps and rules in the previous 5S to maintain a smooth-sailing working environment.
The main goal here is to establish discipline and commitment among everyone for continuous improvement. Here are some pro tips on how to execute Sustain and yield positive results:
Both employees and employers should abide by the rules or systems in place.

Companies should invest in seminars and training that can help employees follow the standardized procedure in their work areas. 

Tools and equipment needed in specific working stations should also be provided to get jobs done correctly. 

Create specific objectives and measurable goals to track the progress of the implemented 5S system. You can also implement regular audits to assess workplace efficiency. 

Establish employee performance evaluations to see if the system works. Make sure to celebrate great team performances and make it a point to get their feedback on the implemented 5S system.
The 6th S: Safety
Companies can reap plenty of benefits by successfully implementing the 5S system in the workplace. One of the best outcomes that the 5S lean manufacturing method can achieve is the 6th S, which is Safety.
Furthermore, safety can also stand on its own and be implemented in the workplace as a 6th S. This phase prioritizes employees' physical and mental safety in their workspace. It aims to give value to human resources by removing potential risks and hazards that come with labor. 
This can range from simply labeling chemicals or eliminating waste to providing quality HVAC systems to avoid aerosol contamination in clinical laboratories. 
Aside from valuing the safety of your workers, it's also mandated by the law to keep the workplace free from safety hazards. 
How To Implement The 5S System
After understanding the positive effects and impact of the 5S Methodology in a company, it's time to implement it. Fortunately, a successful implementation only requires the open willingness, cooperation, and contribution of two parties一both employers and employees.
These two should have a unified goal and the heart to put in enough effort to make the 5S system work. Here is some information on what tools and techniques can successfully help launch, implement, and sustain the 5S method in your workplace.
Who Is Involved in 5S?
The simple answer would be everyone. It's true that employee involvement plays a critical role in the success of 5S, but so does the participation of company leaders (e.g., manager, supervisor) and business owners. 
Other team members may play a bigger role in the implementation, but that doesn't mean that other workers won't be involved. This way, there would be no confusion, and everyone in the company would be up-to-date with significant changes.
What Industries Can Benefit From 5S?
Popular industries that already implement the 5S system are manufacturing companies, factories, warehousing, and related industries. But of course, other industries can also significantly improve their work quality and efficiency by using the 5S. Some specific ventures include:
Healthcare industry

Hotel and restaurant industry

Office jobs

Information and communication technology

Housekeeping or homemaking services

Grocery, market, and retail stores
5S Training
Everyone in the company should receive proper training in 5S methodology一from entry-level workers to the upper management department. The 5S training should cover the important pillars of the 5S system, its application, the role of each staff member, and how it can benefit both the company and its employees.
Companies may conduct the training in a classroom setting, virtually, or by using actual demonstrations in the working area.
Additionally, 5S training should be done whenever there are updates or changes in the company SOP and for new employees.
Common 5S Visual Tools
One of the essential parts of implementing the 5S system in the workplace is visual tools. 5S and visual cues work hand-in-hand to create a clean and orderly place that generates productivity within the workers. 
Visual communication tools definitely help people get familiar with spaces and make a place more well-organized. Plus, having these visual reminders and tools greatly reduces the health and safety risks, especially in dangerous work settings.
You can make your work setting a visual workplace by using some of these helpful visual cues:
Floor Marking Tape
You can usually find floor marking tapes in large facilities since OSHA requires some industries to have this. Floor markings are brightly-colored adhesive tapes used in floors to divide spaces, mark hazards, and provide directions. 
Industrial Printers
Another helpful tool that makes visual communication easier is industrial printers. These high-tech devices allow you to print out different kinds of industrial labels, safety signs, and stickers. You can use them to create a visual workplace by labeling hazardous chemicals or the contents of a specific cabinet. You can even print standardized labeling tags or signs without the help of a PC using the VnM4 Pro Signmaker. 
Shadow Boards 
A shadow board refers to an organizing tool that outlines the shape of a material to indicate its designated place. This helps workers identify where to place specific tools or what items are missing.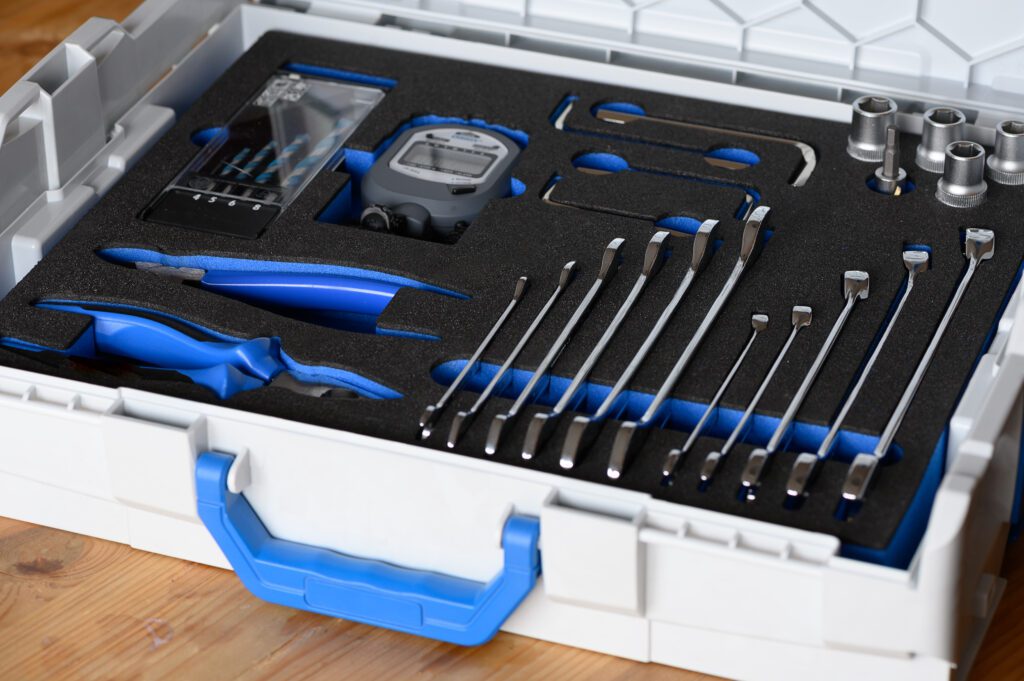 Toolbox Foam
A toolbox foam is like a shadow board, except that the latter uses a foam that has its top layer cut out. This way, workers can easily fit specific tools inside the foam to organize and protect them from damages.
Costs Involved with 5S Implementation
Costs may vary depending on the size of the company and how you plan to execute it. But here are two kinds of expenses that your business will probably encounter when starting and implementing the 5S system:
Redirected labor cost – providing training for the workers will definitely result in loss of labor hours, which

the company can quickly recoup.

Cost of materials and goods – this pertains to the expenses your business will probably make to successfully implement 5S, such as visual tools and storage containers.
FAQs About 5S
What is the purpose of 5S?
Ultimately, the 5S system aims to achieve workplace safety, organization, work efficiency, and maximum productivity.
How can 5S be used in different industries?
The 5S methodology isn't limited to industrial and manufacturing facilities. Any company in every industry can implement it by following the step-by-step process of the 5S so you can discover the solution to your workplace problems.
How does 5S help the business to grow?
Successfully implementing and continuing the 5S program allows companies to increase their productivity and reduce wasted resources. This, in turn, will help the business grow and thrive in its industry.
How does 5S improve safety?
5S enforces cleanliness and orderliness in the workplace to reduce or eliminate safety hazards and health risks.
Is 5S different from kaizen?
Kaizen's goal is to increase efficiency by making "continuous improvement." On the other hand, 5S improves efficiency by eliminating waste to establish order and productivity. But they do go hand-in-hand in implementing the lean manufacturing system.
Is there a difference between 5S and Six Sigma?
5S is a strategy that lays down the framework to achieve improvement in all areas of the workplace. It starts from cleaning, organizing, maintaining, and then standardization of these processes. 
On the other hand, six sigma focuses on improving work processes by determining the problem area or removing defects. 
Who should implement 5S?
Companies that want to boost their work productivity, efficiency, and profit can benefit by implementing the 5S.
Why does 5S fail sometimes?
Some factors that can cause the 5S methodology to fail include: wavering employee commitment, lack of direction, and lack of financial resources.
Where do I start with 5S?
Start by understanding how 5S can benefit your company or organization. Next is to pitch the idea to the management and get support from them. From there, you can easily follow the 5S implementation using the details discussed above.
Conclusion
A detailed understanding of the 5S process and 5S procedures brings you one step closer to achieving operational efficiency. So, if you think the 5S methodology can positively benefit your company, then we're happy to offer our services to you. 
Cobra Systems is the leading provider of unique industrial printing solutions. We can help your company implement the 5S system or lean manufacturing by supplying high quality printers for your 5S signs and labels.
Additionally, our company currently supports customers for their 5S signage that operate within warehousing, distribution, shipping, and logistics.
Get started with your very own stand-alone, seamless signage and label printing solutions by giving us a call at 805-243-3462.